< Pottstown, Penn.


Two young canvassers for Hillary Rodham Clinton, identifying themselves only as "New York City high school students," argue with a U.S. Army staff sergeant on the street in Pottstown, Penn. in Montgomery County on November 8, 2016 -- Election Day.

"She has never done anything in her life to create jobs," The soldier said of Clinton.
"There's people that I work with in the military who would be in prison," for handling classified information like Clinton did, he added.
The canvassers argued that it was Trump who deserved to be in prison.


"In six months' time, he will be on trial for sexual assault," one said, a reference to Trump's comments on a 2005 recording about grabbing women "by the pussy."


"Can you hold somebody accountable for a crime you have no proof has been committed?" The soldier said of the assault allegations made against Trump by several women after the 2005 recording was leaked. "It's all words."

< Pottstown, Penn.
Mark Gibson, 57, a Pennsylvania State Constable, attaches a hand-drawn sign on Election Day, directing voters to St. John the Baptist Catholic Church, a polling place in Pottstown's first ward.
Gibson, a law enforcement officer tasked with watching the polls, said the town had not been subject to any voter intimidation. Signs for local and national Democratic candidates lined the entrance to the polling place.
Pennsylvania, largely expected to turn out for Clinton, was targeted by the Trump campaign as a swing state. In the weeks leading up to the Election, Trump warned supporters that the election would be "rigged," and that Pennsylvania would be a hotbed of voter fraud.

Clinton won Montgomery County handily, with nearly 59 percent of the vote. Trump took 37 percent. Statewide, however, Pennsylvania went to Trump, who won by just over 68,000 votes.
< New York, N.Y.
A protester at the lead of a mile-long march to Trump International Hotel and Tower at Columbus Circle on Wednesday, November 9.
"He wants to grab your daughter's pussy!" the man shouted at police in riot gear.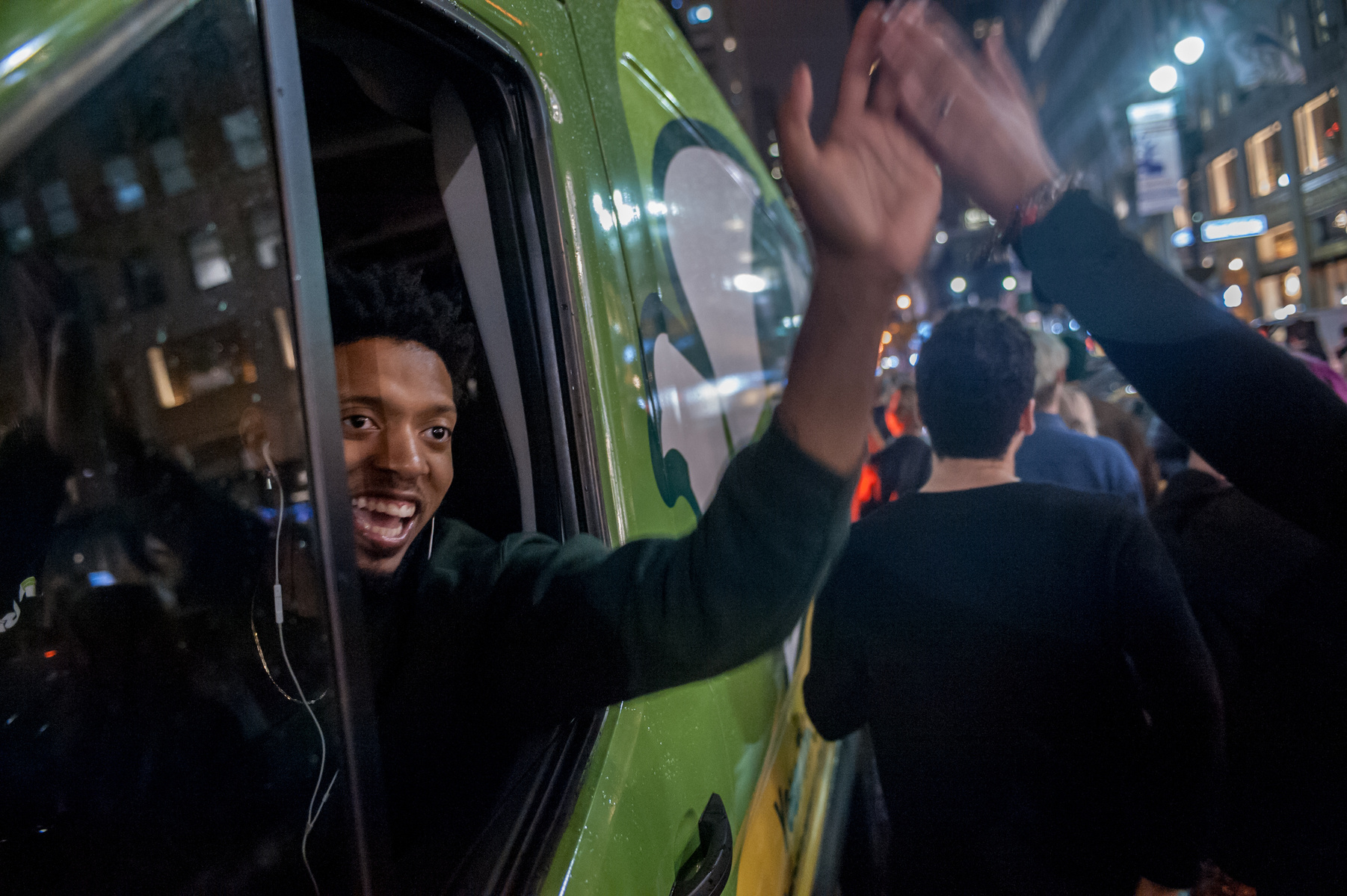 < New York, N.Y.
Protesters shut down traffic throughout midtown Manhattan, adding the cacophony of horn blasts to the chants of "Fuck Trump" and "Not my president."
Some drivers joined in the protest. This man, stuck in a southbound lane on Fifth Avenue, gave high-fives out his window to passing marchers.
< New York, N.Y.
A Trump supporter gets in an argument with a protester two blocks south of Trump Tower on Saturday, November 12. While the president-elect met with his transition team at the Fifth Avenue skyscraper, thousands protested his election outside. At 55th Street, a small group of Trump supporters denounced the marchers, saying they were paid for by liberal billionaire George Soros.
< New York, N.Y.
A Trump supporter backing the president-elect in midtown Manhattan, Saturday, November 12.


"We took back the country," he said. "America had enough of it."
Responding to a passer-by, he yelled, "That's right, you lost! Crybaby!"
< New York, N.Y.
"You gotta be careful," one Trump supporter told this woman as she stepped closer to the protesters with her sign above her head, "some of these people are violent."
"I don't care," she replied, "I can be equally violent."
Soon after, her sign was grabbed from her by a protester who identified as a transsexual Muslim, and both sides tried to pull the two apart.
Police split them up, prompting the Trump supporters to leave the area.

< New York, N.Y.
Protestors make a human chain across 42nd Street on the night of Sunday, November 20, stopping traffic to allow marchers to cross.
Protestors collected under the windows of the Grand Hyatt hotel, where Steve Bannon, an ultra-right-wing advisor to president-elect Donald Trump, was due to speak before the Zionist Organization of America. The march was organized by several Jewish organizations that view Bannon as anti-semitic.
< New York, N.Y.
Protester Eman Abdelhadi helps to lead a call-and-response chant during the November 20 march against Steve Bannon's appointment to Trump's cabinet.
"Muslim, Jewish, Black and White," she yelled.
To which, marchers around her responded, "Together we will fight the right!"
< Washington, D.C.
Supporters of Donald J. Trump stand in line for security on Inauguration Day, January 20, 2017, in order to attend the Inaugural Parade.


In addition to red "Make America Great Again" caps, several supporters donned Trump's own uniform of a blue suit and wide red tie.
The sea of people waiting to clear checkpoints and stand along Pennsylvania Avenue was a sometimes-volitile mix of supporters and protestors. The two groups mostly kept to themselves while waiting hours in line.
< Washington, D.C.
Metropolitan police officers stand in riot gear, separating two groups of protestors after a spate of property destruction during Inauguration Day.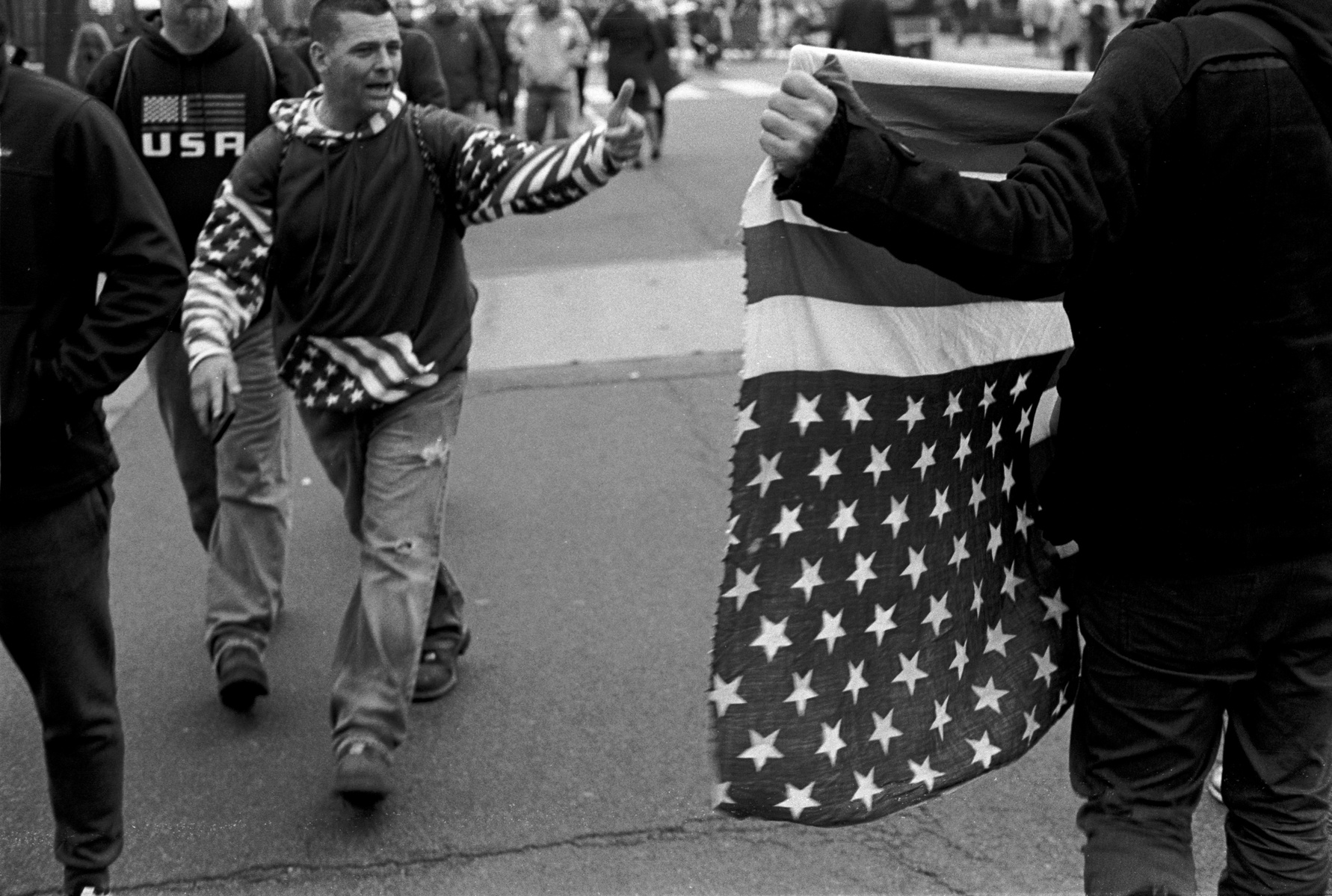 < Washington, D.C.
A Trump supporter tells a protestor to turn his flag right-side up during inauguration festivities.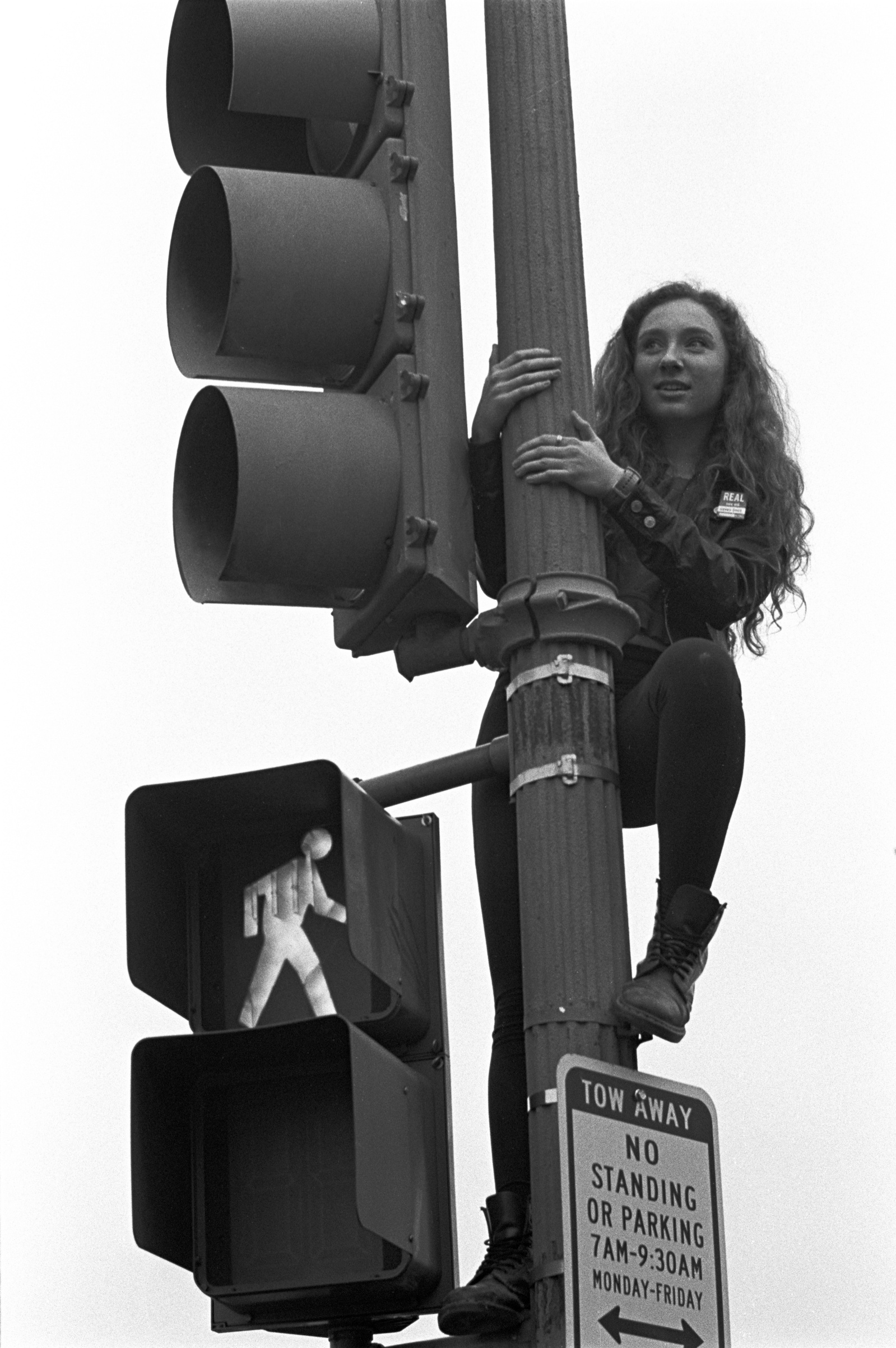 < Washington, D.C.
A young woman climbs a traffic light for a better view across the National Mall during the Women's March of Washington.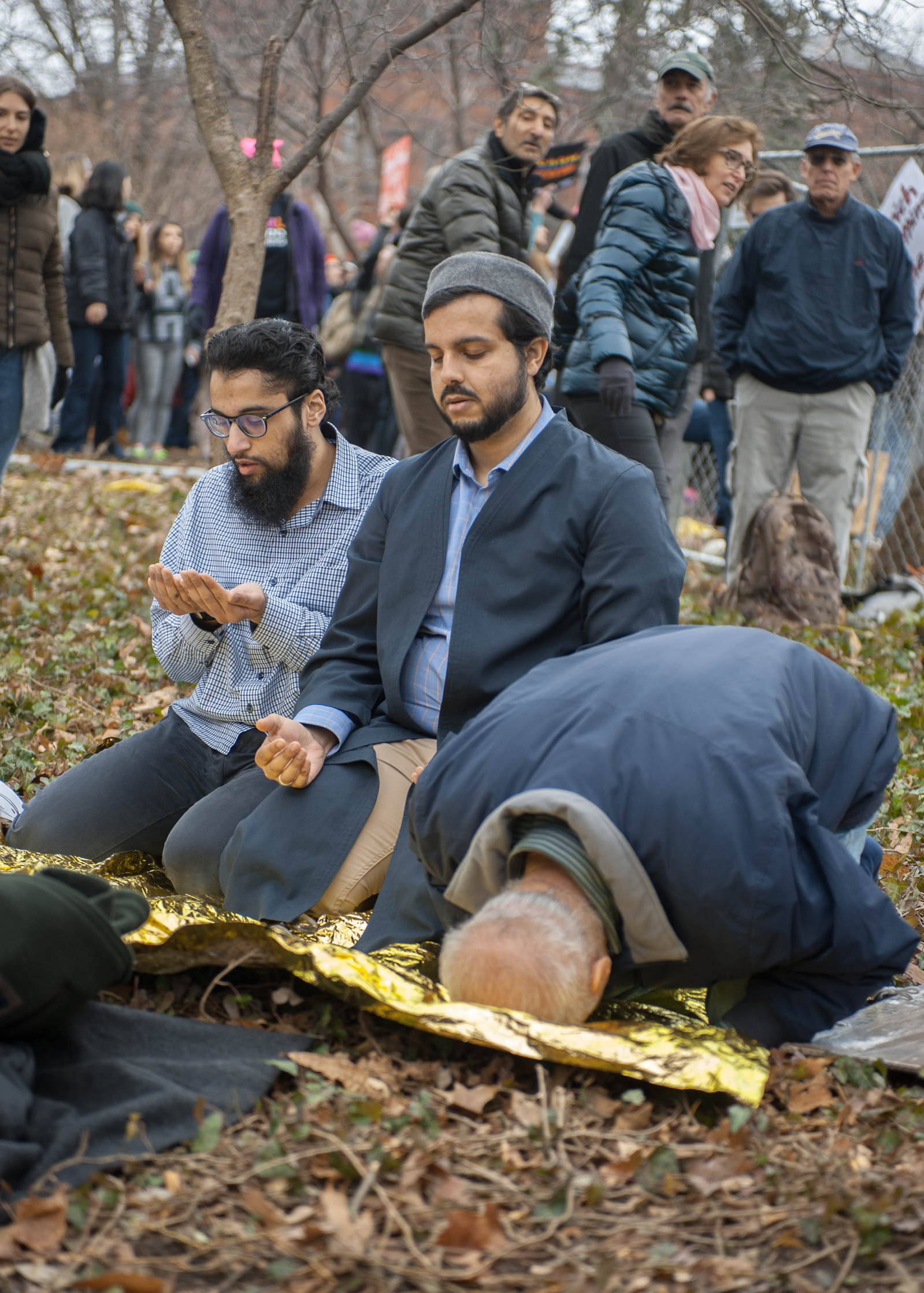 < Washington, D.C.
Three men pray near the National Mall in the midst of the Women's March on Washington.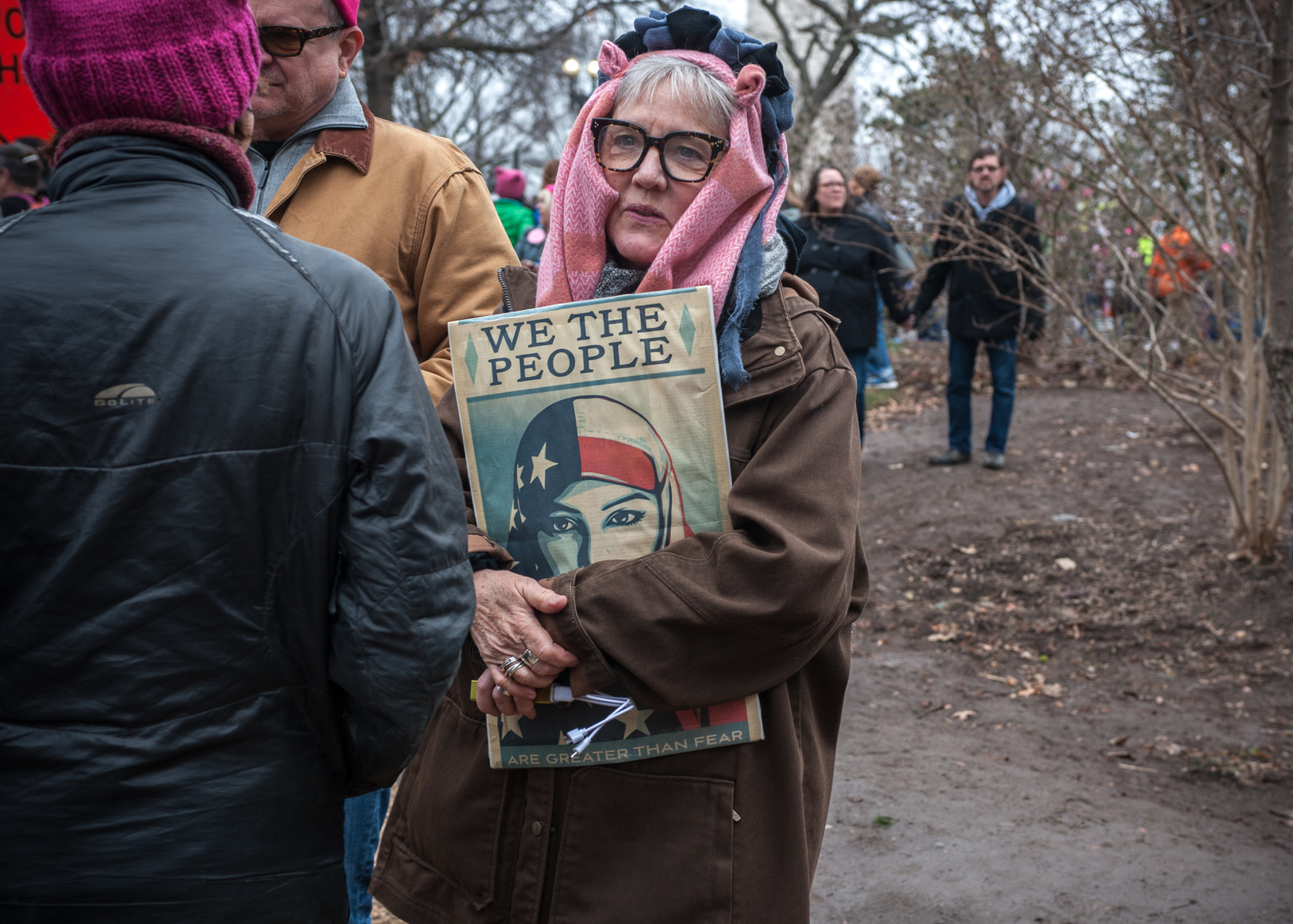 < Washington, D.C.
A woman wears a head scarf with ears while protesting the inauguration of Donald J. Trump to the presidency. "Pussy hats," pink hats with ears, could be seen through out the Women's March. They were a reference to Trump's on-tape boast about women: his fame allows him to "grab them by the pussy."