Floodwater:
Nearly 7 trillion gallons of rainwater fell on Louisiana from August 8 to 14, 2016. The historic deluge caused rivers statewide to overflow, damaging upwards of 60,000 homes and prompting a state of emergency across 20 of Louisiana's 64 parishes. Though the death toll was relatively low at 13, the damage to property was extensive, and compounded by the fact that some of the hardest hit regions were not historically prone to flooding. As a result, many homeowners found themselves un- or under-insured against the flooding.

The following photographs were made in the immediate aftermath, as waters receded across the state. They were made in Sorrento, La., a town of 1,400 in Ascension Parish some 30 miles southeast of Baton Rouge, and in the bayou of Vermilion Parish, a 1,500 square mile rural parish on the state's southwest coast, home to some 60,000 residents.
< Vermilion Parish, La.

Residents of rural Vermilion Parish, La., retrieve flat-bottomed boats from the flood waters on the night of Wednesday, August 24. Members of the loosely-affiliated "Cajun Navy," the men were surveying flood damage to the Bayou's small levees and attempting rescue on neighbors' stranded livestock. Though floodwaters have receded throughout the state, water in Vermillion Parish was still high as of early Thursday morning.
< Clyde Cain
With his head out the sunroof of a pickup truck and a pistol on his hip, Clyde Cain, 53, watches members of the loosely-affiliated "Cajun Navy" retrieve their boats from the floodwaters of Vermilion Parish, La., while broadcasting the action on Facebook Live.
Cain, a U.S. Navy veteran, launched the Louisiana Cajun Navy Facebook page on Sunday, August 14, when much of the state was flooded or in need of assistance.
On that day, Cain rescued his daughter from his ex-wife's house in Albany, La., in a flat-bottomed boat. After getting her to safety, he said, "The Spirit said, 'turn around and go back.'"
Since then, Cain, along with his friend and business partner Cory Labat, have been making rescue runs and food deliveries throughout the state in response to requests via Facebook.
Cain envisions a series of loose-knit local rescue teams throughout the state, set up like volunteer fire departments to assist during future floods.
"You don't want a guy who just bought a boat (going out to rescue)," he said. "That's swift water out there, man."
< David Arceneaux

"Thirty-nine years, I've been here, and no water," said Sorrento, La., resident David Arceneaux. "I don't know what happened this time. I had eight inches of water in the house. But it doesn't matter — eight inches or three feet, it's all the same."
Arceneaux's two sons also live in the area.
"We managed to save my (one) son'e house. We had four pumps and sandbags all around. He said, 'Dad, I'm not going to lose this house.' I said, 'Okay, baby.'"
Arceneaux said the worst part of the flood was that it reminded him of his late grandson Job, who died at the age of five.
"Everytime I came across his stuff," Arceneaux said of the cleanup this week, "I said, 'Man, if Job was here and could see all this water.'"
He gestured towards his house.
"This I can recover," he said. "Him, I can't bring back."
Job's death was one of a series tragedies that Arceneaux said lead him to attempt suicide last year.
"I shot myself," he said, pointing to his chest.
In the year since, Arceneaux said he'd returned to work as a mechanic at a local refinery, and had been in counseling,
"I don't look at that no more," he said of his past. "I look ahead."
He said he saw the storm as God's way of bringing people together.
"The good Lord is going to guide us in the right way," he said.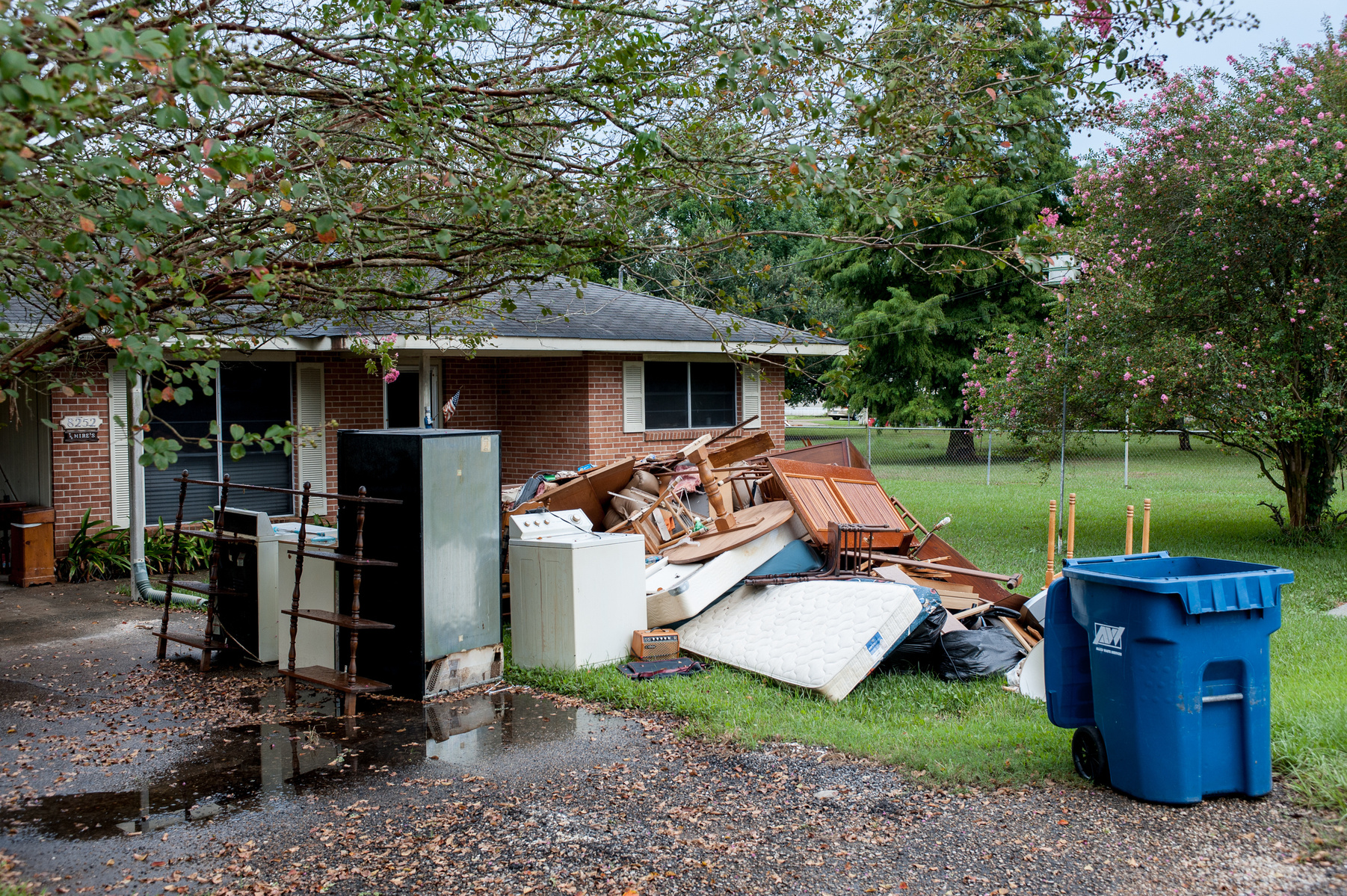 <
Flooded furniture and appliances sit in a puddle on a Villeneuve Street front lawn in Sorrento, La.

<
Copies of the Catholic Commentator lay on the lawn of the Vicknairs' house on Split Log Road in Sorrento, La.
"A lot of this was under water yesterday," said Sorrento Fire Department Chief Nelson Pinion on Tuesday, August 23. Pinion went door to door, bringing plates of food to the few people who were starting to empty their houses. The Vicknairs had lost their cars to the flood, and were sorting through the contents of their house to see what was salvageable. So as not to slow Pinion down, I made arrangements to return, but the couple was not home when I came back the next day. The newspapers were among the things strewn on their front lawn.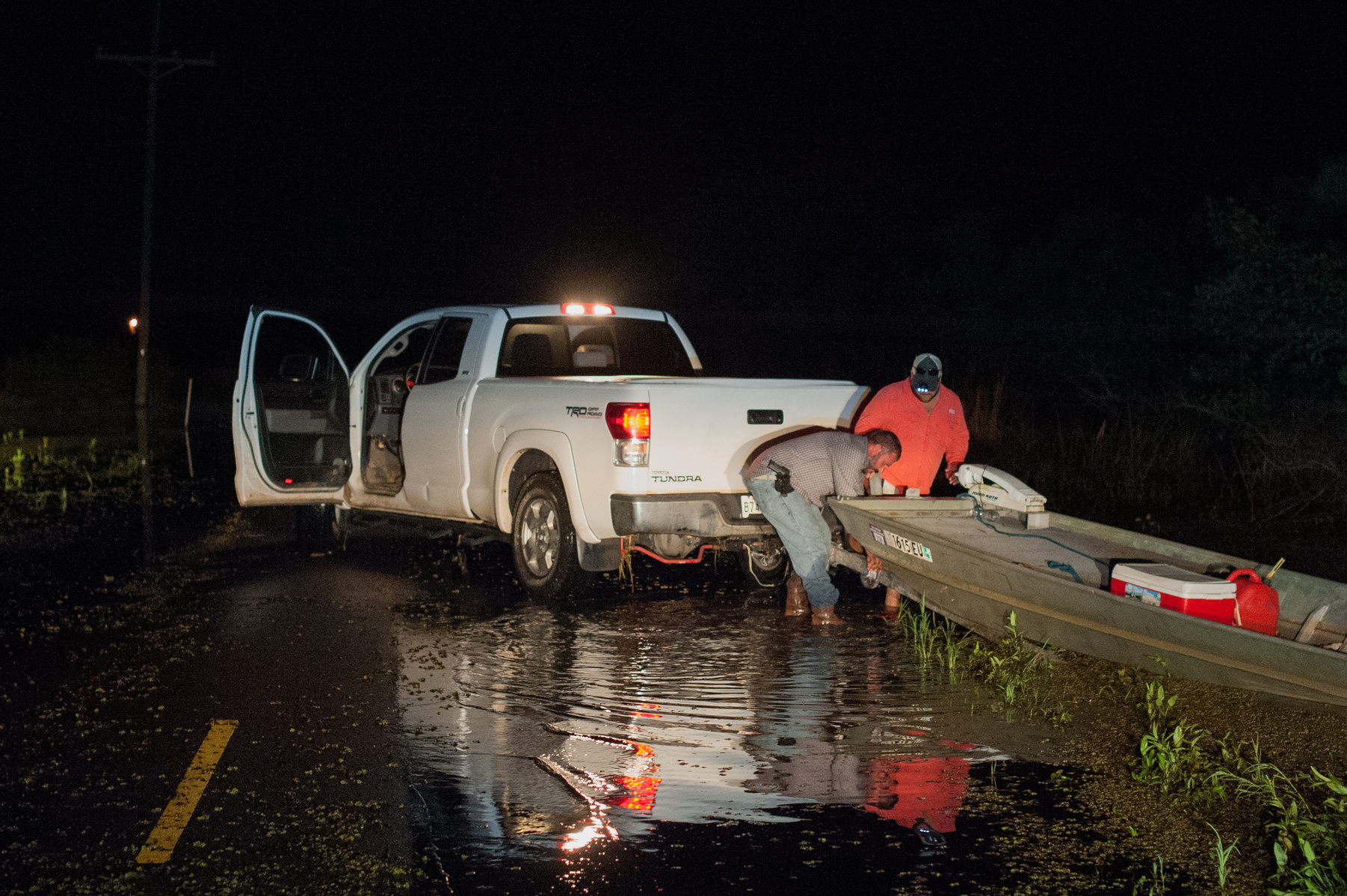 < Vermilion Parish, La.

Two members of the Cajun Navy pull a boat from a the floodwaters of the bayou in Vermilion Parish after an unsuccessful attempt to rescue a neighbor's stranded cattle.

< Nita Longanecker

The flood waters rose some three feet at Nita Longanecker's house on Mathilda Street in Sorrento, La.
"When I saw this, I cried," she said Wednesday as a work crew gutted her house. "I feel like bulldozing this whole thing. It makes you want to do things you normally would not think of doing."
Born and raised in Sorrento, Longanecker has lived in the house for nearly half a century.
"This house was built in March of '67," she said. "I had just lost my husband to the Vietnam War."
Longanecker, who has since remarried, said the loss of family photos has hit her hard.
"When you lose your children's pictures and your grandchildren's pictures," she said, "you just can't recover."
<
Flooded refrigerators sit on the curb outside Nita Longanecker's house in Sorrento, La., awaiting disposal.
< Cory Labat
Cory Labat, 26, steps out of his boots in Gueydan, La., after helping members of the "Cajun Navy" retrieve their boats from the floodwater. A friend and business partner of Clyde Cain, Labat has been at the center of Cain's efforts to organize the Cajun Navy's response.
A former oil-industry worker with experience on offshore drilling platforms, Labat said he'd been trained for the kinds of rescues a flood demands.
"I'm swift-water trained," he said, "I'm underwater-egress trained."
A native of southwest Louisiana, Labat said the work was almost second nature.
"I was raised on boats. I know how to run flat-bottom boats," he said.
< George Melancon
George Melancon has lived in his house on Mathilda Street in Sorrento, La., for 42 years.
"Everything that it took my wife and I 59 years of marriage to accumulate," he said when asked what he'd lost to the two feet of water that rushed into his home.
"I'd like to move, myself," said the Sorrento native, "but my daughter lives down the street."
"I (haven't had) flood insurance in years, because it didn't flood here," he said. "It got so expensive you couldn't hardly afford it."
<
Many Sorrento residents marked the flooded debris piled outside their homes so that work crews wouldn't remove them before the Federal Emergency Management Agency could asses the value of what was lost.